Happy Tail – Bandit!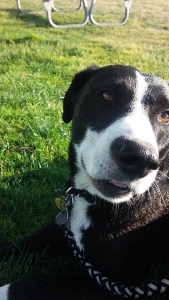 Bandit is doing great! I adopted Bandit April 22nd and he has settled in really well! I feel so lucky to have found such a sweet, happy dog!  We are having a blast exploring together. He loves hiking, riding in the car, swimming at the beach and playing ball.  This week he discovered Marymoor Park and absolutely loves leaping through the fields and playing chase with our friends' dog. We are getting ready to graduate from our first training class and hope to continue training so that he might one day volunteer as a therapy dog.
Our daily walks along the waterfront and snuggles on the couch are the highlight of my day…and Bandit seems to think they're pretty great, too!
Thanks for doing such great work as an organization!
-Michelle