Good Dental Care, Don't Brush it Off!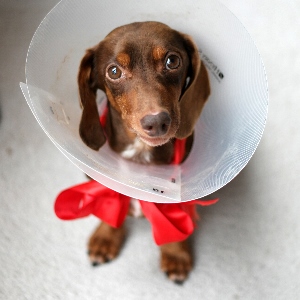 In honor of National Pet Oral Health Care Month read about Buddy Boy's dental journey:
In December, Buddy Boy, an eight-year-old Miniature Dachshund, came to Homeward Pet after his original owner passed away. Like we do for every new arrival, our veterinary team gave Buddy Boy a complete health examination, and found his mouth to be in extremely poor condition. Years of tartar build-up had caused this older guy to develop an infection beneath his gums which had spread to the top of his mouth and rotted away a significant amount of bone.
Buddy Boy was left with a large hole between his mouth and sinus cavity, which was filled with pine needles, hair, pus and food. Without immediate medical attention, it would continue to grow, leaving Buddy Boy susceptible to further infection and discomfort. It took three surgeries to close the fistula and rebuild the roof of his mouth. While Buddy Boy only retained 17 of his 42 teeth, he is now in good health and is living the life of luxury in his forever home.
Buddy Boy's story is a common one for older pets who do not receive routine dental care.  Last year, Homeward Pet's veterinary team, Dr. Tina, Dr. Jenny and Melinda, our Licensed Vet Tech, performed over 160 dental surgeries and cleanings. February is National Pet Dental Health Month, and a good reminder of just how important it is for owners to take care of their pet's teeth.  If it's time to take your furry friend in for a dental exam, Homeward Pet has an amazing network of partner clinics that we rely on throughout the year to provide quality care to our animals and adopters. Check out a list of our partners here.
Buddy's photograph by Karen Ducey Photography & Multimedia.