Happy Tail – Artemis!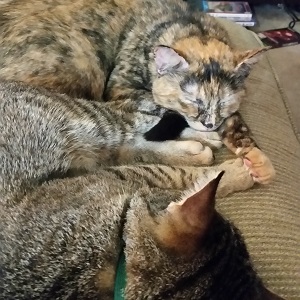 Artemis (formerly Widget) is doing great!
She has very firm opinions, and is very much the Princess of the house. She enjoys grumbling about things that aren't EXACTLY her way, and it's pretty adorable. She viciously attacks felt mice, and "da bird" is her favorite thing.  She and Booster play chase and wrestle all day long, and then give each other baths, and take naps all snuggled together. You would have no idea she is 8 years old, she wears out poor Booster, who is about 4, and still wants to keep going.
She is the sweetest cat, and enjoys laps, as long as she is sure it was 100 percent her idea. Otherwise, she grumbles until you pretend like you can't see her, and then she sneaks onto your lap.
I could go on and on about everything they do together, but it really was the perfect match for both of them.  Thanks so much for everything you guys do!  -Corey