Fostering: Beyond the Call of Duty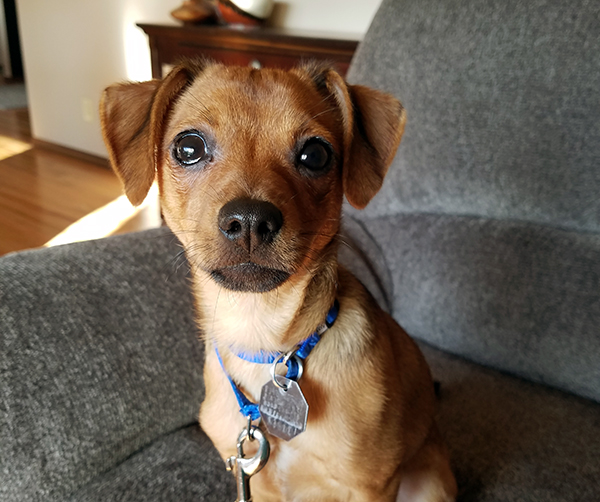 It wasn't long before Kim became suspicious over scabby bumps appearing on her foster dog, Piper's head. A trip to Homeward Pet's Dunmire Veterinary Clinic, confirmed what Kim had thought to be true. Piper had "Dermatophytosis," the fungal infection most commonly known as ringworm.
Ringworm is very contagious and in the animal-sheltering world, is a double-edged sword. No shelter ever wants to quarantine a four-legged friend, but no shelter wants an outbreak of a contagious infection either.
That's why fosters like Kim are our heroes.
Piper's diagnosis meant she would be placed in Homeward Pet's isolation room, or she could remain in Kim's care. Kim had yet to foster a dog with ringworm, but she was up for the task. She would help Piper heal however long it would take.
Fostering an animal with ringworm was initially challenging. But, after the first few weeks Kim says "things just became routine." Kim kept Piper in a playpen—isolated from her two cats— gave her medicated baths every week and washed everything Piper came in contact with several times a week.
Kim will be the first to tell you it was a lot of work, but completely worth it.
After two months of treatment and care, Piper who Kim describes as "the best little dog I've ever met" was ringworm free and has since found a loving family. Thanks to Kim, Piper had months of play, training and socialization to help her start life out on the right "paw!"
Fostering is one of the best services you can provide for a rescue organization, and for homeless animals. For Homeward Pet, it is essential to the success of our Adoption Program. Fostering increases the number of animals we are able to take in, reduces the percentage of cats and dogs who are returned to the shelter and allows us to care for animals who need high-quality medical aid, attention and care.
Kim has fostered 35 four-legged friends now and says "it's addicting." Her favorite part is falling in love over and over again and knowing every time she fosters, she is helping an animal find a home.
Homeward Pet is seeking fosters like Kim. If you think you may be interested in fostering than click here to learn more today.