Behavior Consultations
If you have a question or concern about your pet's behavior, contact Jenny Black, Homeward Pet's Behavior Manager, at or by calling 425-488-4444, ext. 4017.
Jenny is a Certified Behavior Consultant (CBCC-KA) with more than 300+ hours of consultations and experience using positive, force-free training methods to solve behavior issues in the home and in a shelter environment, including house-training, multi-pet management, new pet introductions, socialization, interactions with children or new people, fear-based aggression, prey drive, reactivity (to people, cars, bikes, other animals, etc.), basic manners, and more.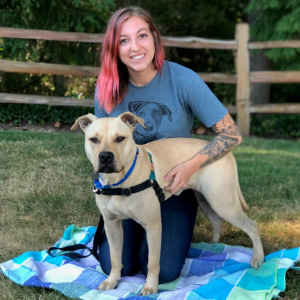 All consultations are free of charge and will be provided via email and/or phone. Major concerns that may require more intensive, in-home behavior modification may need to be referred to a private trainer, but recommendations will be provided after the initial consultation.
Please allow up to 72 hours after your initial contact for a response.
Homeward Pet Adoption Center (HPAC) does not guarantee any specific outcome as a result of your consultation. All recommendations given are provided by a certified behavior consultant employed by HPAC, but you may be referred to a private trainer outside of the organization for in-person consultations as needed. The recommendation of any service or product is not a guarantee of satisfaction with that service or product. We do not provide in-home training or in-person consultations for animals who were not adopted through HPAC.
By contacting HPAC, you certify that you understand the inherent risks in owning a dog or cat, including but not limited to the risk of dog or cat bites to you or others. You also certify that you are and will remain responsible for the actions of your dog or cat at all times and agree to indemnify and hold HPAC and its employees, volunteers, directors and agents harmless of any and all claims of injury, expense, losses, damages and judgment of every kind and description caused by the actions of your dog or cat as a result of your consultation.