What's Black and White and Cute All Over?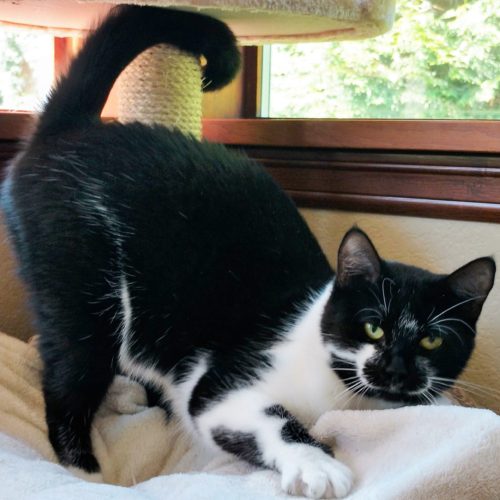 Panda is a Staff and Foster Favorite! "It's quite pleasant just to watch her being her, racing around leaping from chair to chair when the mood strikes her, glued to the window watching the birds, sunning herself on the screened porch, occasionally playing soccer with a ping pong ball. She's about as low maintenance as you can get and we really enjoy having her share our home right now!" – Alethea, Cat Foster Volunteer 
Precious Panda is a petite black and white tuxedo kitty with the softest fur you'll ever pet! Panda is shy and bashful in new situations, but give her some time to settle in and she will show off her affectionate side. She absolutely loves being pet, and if you scratch that special spot right above her tail she will raise her rear-end up in the air to show her appreciation. And you'll know you've won her over when she bumps her head into you to ask for more love! Panda is looking for a quiet and predictable home with humans who can let her acclimate at her own pace. Panda has never lived with dogs before but she has met other cats and didn't mind their company. A quieter home with just teens and adults would be best suited for this shyer gal. Call us to set up a time to meet this adorable little girl- with a little work on self-confidence, she will be a shining star!
**Panda is currently in a foster home. Please contact us directly to learn more about Panda, and to schedule a time to meet her**