The Pack's All Here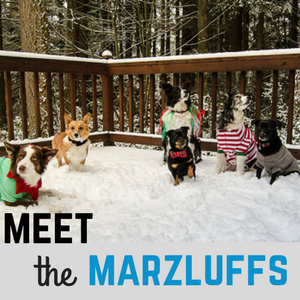 Meet the Marzluff pack: from left to right, Bella, Chauncey, Digit, Louie, Reese, and Baloo. Together, they've found a loving home—and coordinating festive clothing—with the Marzluff family. For years, Homeward Pet volunteer Peggy McPherson gifted each pup with presents during the holiday season. But this year, she decided to do something a little different.
"The Marzluff dogs have all the toys, love, food, dog beds, and medical care they could ever want," Peggy says. "This year, I felt it would be more meaningful to pay it forward for a shelter dog from the Marzluff dogs in lieu of their individual gifts."
Most of the pack's family—John, Colleen, and Danika—had a chance to visit our shelter and choose two pups' adoption fees to prepay, bettering their chance at finding a home quicker. They settled on seniors: Opal, a German Shepherd recovering from surgery, and Zoey, who shared the name of John and Colleen's other daughter.
Peggy joked, "If they did not already have dogs at home, I'm sure several more dogs would have left the shelter that day!" Her gift to the Marzluff dogs did help Opal and Zoey leave the shelter soon after, becoming two more in the long list of animals helped in this way.
Our Pay It Forward program, founded in early 2014, has assisted in the care and adoption of 758 cats and dogs. Oftentimes, adopters who are the beneficiaries of a pay it forward donation will choose to continue the chain of giving, the effect of the original gift multiplying far beyond the original dollar amount. The ripple effect one of such gift has the potential to be felt by many of our residents.
Say Happy Valentine's or Happy Birthday to an animal lover in your life—and spread the love by helping a shelter animal find a home. Make your own gift to the animals in our care here.