Easter B'egg Hunt
Hop on over to Homeward Pet's 10th Annual Easter B'egg Hunt!
On Saturday, April 8, join Homeward Pet for a day of fun and frolic at Camp Charlie's Private Off-Leash Park in Duvall. From 11am to 2pm dogs of every shape and size will romp and roam the fields in search of dog treat stuffed eggs!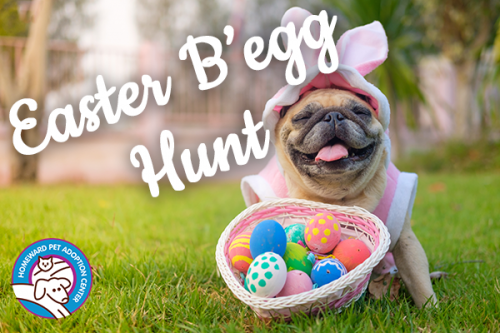 Admission to this event is FREE, but monetary donations are encouraged to benefit the homeless animals in our care.
Please register so we know you plan to join us!

Large Dogs: 11am-12:30pm
Small dogs: 12:30pm-2pm
Camp Charlie Private Off-leash Park
25809 Northeast 124th Street
Duvall, WA 98019
Can't make it? You can still ensure a happy spring for homeless cats and dogs by making a meaningful gift today.
Check out these images from the 2016 Easter B'egg Hunt: