Fur Ball Auction: A Record-Breaking Benefit
You proudly threw your paddles high at this year's Fur Ball Auction & Dinner and raised a record-breaking $450,000 to benefit the cats and dogs of Homeward Pet. These generous funds will provide close to 2,000 animals this year with extraordinary care including; vaccinations, spay and neuter surgeries, microchips, additional medical care, food, shelter, love and more.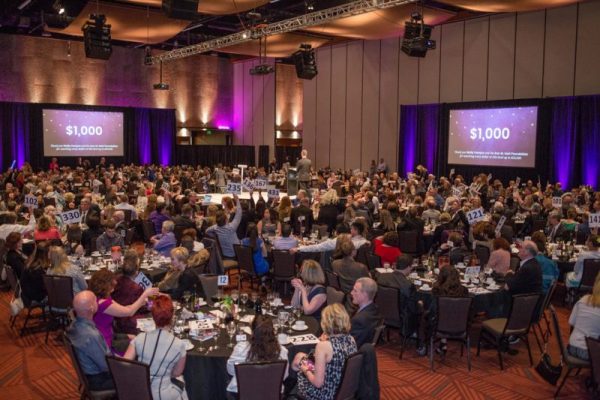 Your heartfelt contributions also paid-it-forward for 53 cats and dogs to help them find loving homes, and you helped Homeward Pet raise much-needed funds to make essential enhancements to the shelter which include:
New 100-Gallon Everlast Water Heater: The new 100-gallon water heater will hold nearly three times the capacity of our current water heater and will enable the shelter to provide the hot water required for dental surgeries, medicated baths, to prepare dog and cat food, and to wash/sanitize dishes, litterboxes, bedding, towels and more.
Cat Intake Kennels: New cat intake kennels will allow us to provide the highest quality of care possible to more than 1,000 cats each year. Upgraded stainless steel kennels are easier to clean and more sanitary, offer "quiet time covers" so felines can acclimate to the shelter environment and provide additional kennel space so we can take in more cats at one time.
Thank you for showing unwavering commitment to the animals. The funds you helped raise are already creating better and brighter futures for homeless cats and dogs.
Check out more Fur Ball photos by Wag Booth and Entwined Portraits!
 Mark your calendars to join us for the Fur Ball Auction next year on May 19, 2018! 
A very special thank you goes out to the following sponsors who made the 2017 Fur Ball Auction & Dinner such a sensational success!
Advocate Sponsors
Guardian Sponsors
| | | | | |
| --- | --- | --- | --- | --- |
| | | | | |
| | | | | |
Companion Sponsors
The Linnerooth Team, Windermere Real Estate
Community & In-Kind Sponsors
Peggy Noll
Marsha & Craig Tupper
Sheila Ritchie & Brad Fawcett
Interested in promoting your brand as a sponsor next year? Contact Events Manager, .