Holiday Pet Food Drive
Helping people and their pets this holiday season!
This holiday season, join Homeward Pet for the 8th Annual Holiday Pet Food Drive to help homeless animals and families in need in our community. Through December 31st, drop off your generous dog or cat food donation at any of the participating locations below, or bring your donation to Homeward Pet Adoption Center in Woodinville any day between 9am – 6pm.
Donated pet food and supplies will fill the shelves at food banks from Kirkland to Snohomish and help us care for the homeless animals at Homeward Pet until they find their forever homes.
Each week, the Homeward Pet Food Bank distributes pet food and supplies to help more than 1100 families keep their pets home for the holidays, and throughout the year. And every year, Homeward Pet Adoption Center matches nearly 1900 homeless cats and dogs to their new families.
Last year, the Holiday Pet Food Drive took in over 8 tons of dry pet food and nearly 3000 cans of dog and cat food…and we're hoping for a ton more this year!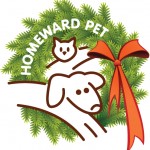 Thank you and Happy Holidays!
Participating locations: 
Mud Bay-Mill Creek
1018 164th St. SE
Mill Creek, WA 98012
MudBay – West Seattle
2611 California Ave. SW
Seattle, WA 98116
Pet Pros – Thrashers Corner
20631 Bothell-Everett Hwy
Bothell, WA  98012
Pet Pros – Gateway Plaza
13402 Bothell Everett Hwy
Mill Creek, WA 98012
Pet Pros – Lake Pleasant
24024 Bothell-Everett Hwy
Bothell, WA 98021
Petco – Redmond
7215 170th Ave NE
Redmond, WA 98052
Dooley's Dog House
1421 Market St
Kirkland, WA  98033
425-889-2200
Pet Adventure
22803 44th Ave W
Mt. Lk Terrace, WA  98043
425-771-0676

Mud Bay – Shoreline
1201 N 175th St
Shoreline, WA  98133
206-629-6062

All donations will support the homeless animals at the shelter and be distributed by the Homeward Pet Food Bank to families with pets at the following local food banks.
Please check with specific organization for hours and more information:
Canyon Hills Community Church Food Bank (Bothell)
Woodinville Storehouse
Maltby Food Bank
Monroe-Sky Valley Food Bank
Mill Creek Food Bank
The Doney Clinic at Union Gospel Mission
Carol Rowe Memorial Food Bank/Edmonds
Salvation Army Food Bank
Snohomish Community Food Bank
Hopelink – Kirkland/Northshore
Stanwood Camano Food Bank
Your generous donation will also support Homeward Pet's animal rescue partners:
Cat Coalition
Community Resource Network
Lifesavers Rescue
Stand Up For Kids – Seattle
Youth Care
Thank you for supporting the Homeward Pet Food Bank!
Interested in giving back in another way? Try the Homeward Pet Giving Tree Program.