A Cat for Not Just Anyone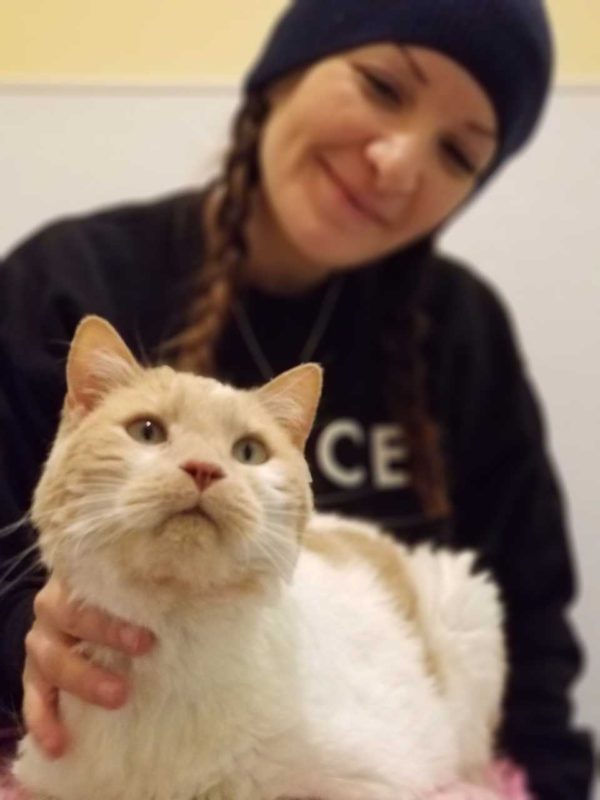 Roxy's journey to Homeward Pet is not uncommon. When her owner passed away in June of 2015, she found refuge at Homeward Pet. Unfortunately, the search for her new home hasn't run smooth. While most animals move on to their forever homes after a few weeks, Roxy's stay has been much longer. Though she's content as a lapcat—and her soft fur lends itself to pets—she's been in and out of our shelter since her first arrival, having been adopted and returned to us four times.
What keeps this ball of ginger fur from fully settling in? Well, Roxy has a regular laundry list of concerns: She has a history of upper respiratory infections, which cause her to become congested and sneeze all over those close to her. Pancreatitis and inflammatory bowel disease cause her discomfort, which we mitigate through medication and a raw food diet, but she sometimes still misses the litter box. She doesn't get along too well with other animals, which rules out any multi-pet households. Twice, she was returned when her adopters unfortunately developed allergies. It seems like almost everything is working against this mellow kitty.
Though Roxy can be grumpy when she doesn't feel well or becomes stressed, our Cat Behavior Team coordinator, Kimberlee (pictured with Roxy), has developed a special relationship with her. To alleviate some of Roxy's behavioral concerns, Kimberlee and her team work every day with her as we hunt for that special adopter: someone who understands Roxy's medical and behavioral issues and is able to work with her on her own terms. As she learns calming behaviors, her pleasant qualities are better able to shine. In return for patience and occasional space, she'll reward you with a lifetime of purrs and play. As Kimberlee puts it, "Roxy has been one of my favorites since she first came to Homeward. She is always happy to greet you when you open her door and the moment you sit down she can't hop up in your lap fast enough. Roxy is affectionate, lap-loving, and still has a little bit of a playful side when you bring out that feather stick toy! I know Roxy comes with her challenges–don't we all?–but she is a fantastic cat that would make a great companion for someone who understands her needs."
Not every adoption we do is easy. She's not the easiest cat we've ever had come through our doors, but we'll never give up on trying to help her…or searching for a home where she'll be loved for years to come. We sum it up like this: Roxy isn't for everyone. But just maybe she's the one for you.
Interested in learning more about Roxy? Visit her during adoption hours: Wednesday – Sunday, 12pm – 6pm.