Demi's Heart of Gold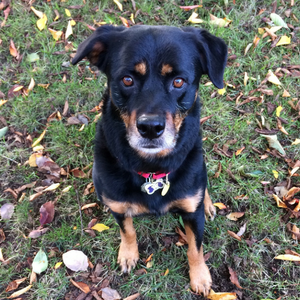 Sometimes, an illness is invisible. Rottweiler Demi still bounded after squirrels, chased balls, and rolled over for belly rubs. Even after being found on the streets of Everett, she still wagged her nub of a tail at volunteers who took care of her. Ten pounds underweight from living on her own, Demi accepted treats gingerly. Even after who knows how long outside, her heart continued to outpour with love.
But inside, something awful was happening: her heart beat, then stuttered. Blood pumped forward—and stalled inside Demi's heart.
When Demi arrived, we knew her heart wasn't healthy—it was too fast, too erratic. A visit to a cardiologist confirmed what our veterinarians suspected: Demi suffered from an arrhythmia, caused by a faulty valve. When her heart beat, some blood moved as normal; some blood remained in her heart. (You can see a healthy dog's heartbeat above Demi's ECG monitor. Note her heartbeat's uneven spacing and unusual shapes.)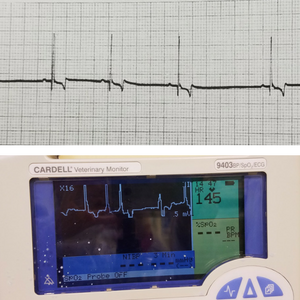 How long she had been living like this we didn't know. What we did know: without treatment, Demi's heart would continue to increase in size until it could no longer support her. We quickly put her on a medication to slow her pulse.
Sometimes the smallest thing can be a solution.
Within a few days, the arrhythmia was no longer detectable. Her pulse slowed to normal. All the extra work her heart had been putting in was no longer necessary. We made her available for adoption, but prepared for a wait: Demi was a senior dog and one of the so-called "bully breeds" with significant medical history.
That's when Sarah fell in love with her smile. She and her husband were looking for a senior dog who fit in with their other pup, Klover. Upon seeing Demi's face and learning of her sweet disposition, Sarah recalls "our hearts melted."
Now, Demi and Klover spend the days together alongside Sarah and her husband, chasing balls and shadows. Sarah has no regrets about seeking out a senior: "She is the sweetest cuddle bug that we could have asked for and feel so honored to be chosen to care for her. Demi has a lot of love to give and is so spunky—I often forget she is almost 10!"
Right now, animal lovers like you are gearing up for Seattle's biggest day of giving. When you #GiveBIG on May 9, you are creating a promising future for a newborn kitten or a senior dog. Give early today or learn more about GiveBIG.