Give It Your All for Animals in Need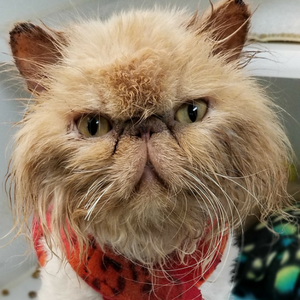 All they had known were cramped kennels stacked high. It had to be noisy; it had to smell like filth. Twenty-four Persian cats, all spending year after year without proper medical attention or grooming, covered in sores and overrun with illness.  
And, sadly, that wasn't all: sixteen dogs—for a total of forty animals—lived in the single home stacked alongside the dozens of kennels filled with cats.
We took in four cats and three dogs. The care they required would be extensive.
JR, Ruby, and Chichi were those three dogs who arrived at Homeward Pet in rough shape. JR's jaw cracked during a routine veterinary examination, its brittleness telling a story of malnutrition and a diet lacking minerals essential to healthy development; most of Ruby's teeth were damaged or decaying and had to be removed to give her a life without pain. Chichi's ear canals were constricted by inflammation.  
The cats'—Slate, Kaos, Bumpy, and Alexander—medical needs told a similar story of hardship. Slate's ear canals oozed. Kaos required two antibiotics for ear and skin infections; Bumpy's breathing was labored with an upper respiratory infection and his ears crawled with mites. Bits of a broken tooth were extracted from Alexander's gums.
Together, the four cats and three dogs represented years of cruelty and neglect. But the story of their recovery also gives us all hope: hope that pain and fear can be transformed into love and the comfort of a warm lap or kind pet on the head—but only because of your continued dedication and support to helping the most vulnerable animals in our community.
We flushed dirt and mites and months of grime from their ears. We slipped Kaos into a thick sweater to discourage picking at her mending skin. Alexander nibbled on wet food with his newly healed mouth; Ruby allowed her spunky side to show. Bumpy settled into a soft bed brimming with blankets.
JR got a bath—maybe one of his first ever.
Each of the cats has now been adopted. Kaos is even pursuing fame with her own Instagram account. As for the dogs, Chichi and Ruby trot along sidewalks beside their new families. JR has gone home with a family who hopes to officially adopt him soon.
Happy endings, even from the worst of beginnings, are possible only because of you. When you give it your all this GiveBIG, your contributions will help animals in need of kindness like those whose stories we just told. Give a gift today and start changing lives for the better, now and tomorrow.