Radio-cat-ive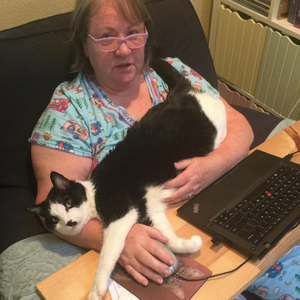 Smudgy, a senior cat, is famous in the Homeward Pet community for his gravelly meow and willingness to chat at all hours. Soon, he'll join another group of distinguished felines: those we have treated with a dose of radioactive iodine.
It may sound like something out of science fiction, but the procedure is familiar to our veterinarians. Smudgy lives with hyperthyroidism—his thyroid produces too much hormone due to a benign tumor. With a single dose of radioactive treatment, Smudgy will likely be cured of his condition forever. Other courses of treatment require risky surgery or frequent pills. Though expensive, the iodine treatment will allow Smudgy to live a happier, stress-free life. Several of our other feline alumni have undergone the process and continued on to healthy lives in their forever homes.
Mary Ann Boffey, a Homeward Pet foster, is helping Smudgy prepare for the treatment—and assisting with his care afterward. "He's a fantastic cat, just a big lover boy," she says. "He meets me at the door in the morning, and when I get home from work, he's all over me wanting love."
Thanks to supporters of Whoopi's Fund for Special Needs Animals, we can provide Smudgy the best veterinary care available and get this quirky boy ready for his forever home.