Homeward Pet Helps Baja La Paz – Beach Puppies!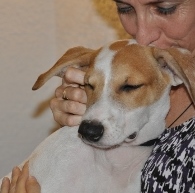 Homeward Pet Adoption Center's focus is to help as many homeless dogs and cats in the state of Washington as their Woodinville facility can accommodate.  Yet, when a local rescuer asked for help with saving a litter of abandoned puppies from the beach in Baja La Paz, Mexico, they could not say no.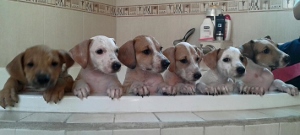 The beaches in Baja La Paz have become a dumping ground for unwanted dogs and cats. At any time you can find up to 50 animals barely surviving on whatever scrap of food they can find.  In early October, a local animal lover discovered a litter of discarded puppies, just 6 weeks old and starving, and secured a loving foster home to help nurse them back to health until placement could be found.
Terri Inglis, Homeward Pet's Executive Director, received a call from Michelle McCormick, a local Washington resident and board member for Baja Dogs La Paz, a US based 501(c)3 nonprofit created specifically to help with spay & neuter education and rescue efforts of abandoned animals in the Baja La Paz area of Mexico. Michelle explained the challenges of adoption in the area and asked if Homeward Pet would consider accepting five very lovable and adoptable puppies.  Homeward Pet could not say no!
At four months old, five healthy, rambunctious yet slightly shy puppies were loaded into crates and boarded a plane bound for Seattle.  They arrived at the shelter on Sunday, November 29, very scared after their long adventure northward.  After three days in the shelter, they relaxed and began enjoying the love and attention of the Homeward Pet staff and volunteers.  All of the puppies – 3 males and 2 females – received their health exams from the Homeward Pet veterinary team, were spayed or neutered and microchipped before made available for adoption.
In less than a week – all five puppies are now in their forever homes!  Best holiday gift ever! 
Learn more about Baja Dogs La Paz.