Affordable Microchips
Homeward Pet offers microchipping every Tuesday from 10am – 2pm in the Dunmire Veterinary Clinic at Homeward Pet. Microchipping costs $20 per animal and includes national registration. All animals brought in for microchipping must be spayed or neutered. No appointment necessary.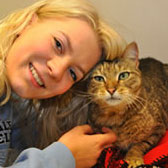 A microchip is the best form of identification your pet can have – a permanent form of ID that can never be separated from your pet. A microchip is about 2/3 the size of a grain of rice and is injected under the animal's skin between the shoulder blades. Each chip has a unique number and is registered with a national database with the owner's name, address and contact information. The microchip can be read by scanners that are currently used by most animal organizations and veterinary clinics.
With a microchip, if your pet ever gets lost, the person finding your pet can have him/her scanned. The scanner will reveal your pet's unique microchip number, the national database will be contacted to look up the registration and contact information for that animal, and the registered owner will be contacted. We've seen many happy reunions result from the use of microchips and proper registration.


Note: Some companies implanting microchips have recently started using an ISO (International Standards Organization) compliant chip that is new in the United States, but widely used across Europe and Canada. Efforts are underway to develop a single 'global' scanner that will read both ISO and non-ISO microchips. At Homeward Pet Adoption Center, we have both ISO and non-ISO scanners.