Our History
Homeward Pet – Over 29 Years of Rescue, Shelter and Adoption!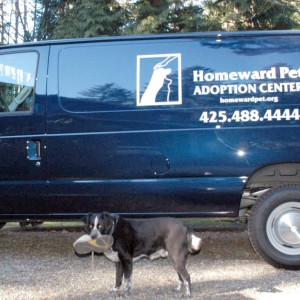 Homeward Pet Adoption Center was founded in 1990 as Hooterville Pet Safehaus. Our founder, Peggy Barnish, established Hooterville with the belief that there could be an animal shelter where euthanasia was a last resort – used only to ease suffering from injury or illness – and every adoptable animal would eventually find their forever home. In the first year of operation, we found new homes for 350 cats and 20 dogs (all adopted out of foster care, as we didn't yet have the space to house available dogs).
As word spread about our small, no-kill shelter in Woodinville the adoptions increased, and in 1996 – just 5 years later – we helped nearly 1000 dogs and cats find their forever homes.
In 1997, Hooterville began to spay or neuter every animal before they were available for adoption (prior to this, vouchers for the surgery were issued with every adoption). We had yet to have a clinic of our own – that wouldn't happen for another 6 years – so all the animals had to be transported to local vet clinics for surgery.
The first of several moves happened in 1998, to a much larger facility in Bothell's Country Village.
In 2003, Hooterville Pet Safehaus became Homeward Pet Adoption Center – better reflecting our determination to find great new homes for all of our rescued dogs and cats – and moved into a new location in Woodinville. For the first time since we opened our doors in 1990, all of our adoptable dogs and cats were under one roof, and we finally had enough space to build our own veterinary clinic, hiring a staff vet to spay or neuter, microchip and provide basic medical care for all of our animals.
Later in 2003, Homeward Pet reached across the country to help animals in need. A small shelter in West Virginia was faced with closing their doors and Homeward Pet transported 31 dogs from the East Coast – which soon became 40 when a pregnant Plott Hound named Aileen gave birth to 9 pups shortly after arriving at our Woodinville shelter. When Hurricane Katrina ravaged the Gulf Coast in 2005, 35 animals displaced by the storm were brought to Homeward Pet and cared for by compassionate foster families before being adopted into new, loving homes.
In 2009, Homeward Pet found new homes for more dogs and cats, puppies and kittens than ever before – 1385 adoptions was nearly twice the number of animals we placed a decade before!
We introduced the Homeward Pet Low-Cost Spay & Neuter Clinic in 2010, to further strengthen our commitment to reducing the number of unwanted animals born by providing low-cost surgeries to reduced-income families. That year, we also began including free training classes with all of our dog adoptions.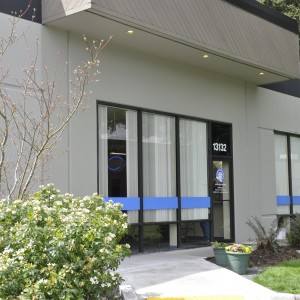 Our 21st year brought even bigger changes. In October of 2011, we moved into our current facility in Woodinville. Thanks to the amazing generosity of our supporters, we've been able to transform an empty warehouse into the shelter we'd always envisioned: bright, open, and cheery, with plenty of space for visitors to meet and interact with our adoptable animals, greatly improved animal care capability, and plenty of space to be able to rescue, shelter and adopt even more cats and dogs.
In December of 2011, we debuted another community program, the Homeward Pet Food Bank. The Homeward Pet Food Bank provides pet food and supplies to families in need of a little assistance to help them keep their beloved pet in their home.
In 2015, we took major steps to address the behavior needs of our animals, to match the outstanding medical care provided by our clinic (which by this time has two full-time vets, a vet tech, and clinic manager).  The Homeward Pet Dog Behavior Team provides daily sessions to shelter dogs in need of training and socialization. By the end of 2016, our Cat Behavior Team was doing the same for the felines in shelter.
We continue to grow each year and in 2018 found loving homes for 1,754 cats and dogs.
We're still small, with a staff of just 27 full and part-time employees. Our nearly 400 volunteers remain the backbone of our shelter – and the heart. Thanks to our volunteers, many of the rescued animals who come to Homeward Pet get more love and attention than they've ever known before, which is what it's always been about. And thanks to the generous, ongoing support of our donors, sponsors and partners, our shelter continues to grow and improve. Drop by for a visit and get to know us even better!