Tickets are available now for the 2016 Fur Ball Auction & Dinner
Saturday, March 26, 2016, 5:30pm

Bellevue's Meydenbauer Center
Join us as we celebrate the human-animal bond by raising funds (and a darn good time) for pets in-need!
Join 450 warm-hearted friends at the Meydenbauer Center for a night of delicious treats and playtime in support of our furry friends.  With the help of over 60 volunteers, bid on silent auction items, 'Pay-it-Forward' toward adoption fees for animals in our shelter, choose a mystery bottle in our Brown Bag Bottle Grab and help us buy life-saving medical equipment for our clinic.
In the Live Auction, celebrate all that YOU, with Homeward Pet, have accomplished for animals in our fight to end pet homelessness. Raise your paddle to contribute toward many more years of "Matches Made.  Lives Saved."
Master of Ceremonies, Herb Weisbaum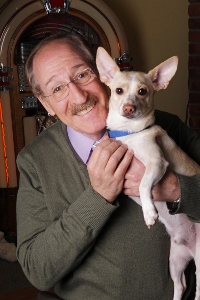 Herb Weisbaum, The ConsumerMan, is an Emmy-award winning reporter and one of America's top consumer experts. Herb anchors the Midday News on KOMO Radio and writes a weekly consumer column for NBCNews.com. Herb has covered the consumer beat for NBC's Today Show and CBS News.
Herb and his wife Debra are passionate animal lovers who have supported various animal rescue and adoption organizations in Western Washington. They are proud to be part of an amazing group of volunteers at Homeward Pet. Their furry family members include Buster, a beautiful ragdoll cat adopted from Homeward and Sam, a super-friendly Chihuahua-Terrier mix.
Live Auction Reader, Elisa Jaffe
Elisa Jaffe, KOMO NewsRadio Anchor is well-known to both TV viewers and radio listeners in Western Washington. She has earned an Edward R. Murrow award and multiple Emmy Awards and for her reporting, writing, and producing. Her career in Seattle includes reporting and anchoring for KOMO 4 News, serving as host and executive producer of Northwest Afternoon, the award-winning daily talk show, hosted the morning drive news radio program Smart Talk Mornings on 570 KVI, and voice-over work for STAR 101.5 Radio and charitable causes.
Elisa devotes much of her spare time to non-profits including the Crisis Clinic of King County and Seattle Men's Chorus and Seattle Women's Chorus. Elisa holds a Bachelor of Journalism from the University of Missouri at the Columbia School of Journalism.
Auctioneer, Laura Michalek

Fundraising Auctioneer Laura Michalek still relies on the endurance and discipline she possessed when at the age of 15, she was the first female winner of the Chicago Marathon. While Ms. Michalek has hardly missed a day of running since then, it's this intention to excel at what she loves that is most evident. "To me Auctioneering is about giving a lot of yourself, before and during the event, in a way that most folks wouldn't expect." Her style, fundraising insight, and commitment to her clients, and their mission, not only sets her apart, but has created a career beyond Ms. Michalek's wildest dreams. "I've always been deeply interested in how non-profits I care about are going to sustain themselves, so it is nothing less than a thrill to know I can personally and professionally be part of that."
For 15 years prior to becoming a full time Fundraising Professional, Ms. Michalek owned and operated several nationally recognized vintage modern furniture stores in Seattle. "My critical eye, intuition, and energy level has been pretty consistent all these years, so whenever I set out to do something, it's the same set of skills, just a slightly more developed new chapter."
As the youngest winner in the history of the Chicago Marathon, it has not been lost for Ms. Michalek that this experience informed her whole life. "When I start Auctioneering, it's like being in the starting block all over again, and I still set out to win, however this time it's for the organization I'm representing."