Hector Searches for His Home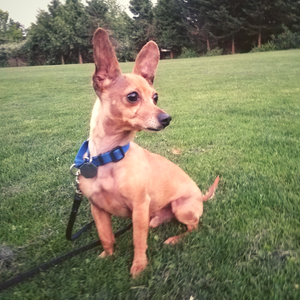 There are two immediately striking things about Hector: his big ears and just how much he wants to cuddle.
"He's transformed into such a great dog," says Lara, a member of Homeward Pet's Dog Behavior team. "He loves to snuggle and get in your lap. You could get satellite TV from those ears!" Each week, members of the Dog and Cat Behavior Teams meet with our resident animals like Hector in need of some extra mental stimulation or training.
Working with animals with behavior challenges is so rewarding, Lara says, because you get to be a part of the "huge team effort" to help these dogs gain self-confidence and skills needed to be successful in adopters' homes. When Hector arrived, he didn't know any commands or cues. Now, Lara makes a point to work with him each week on cues like "Sit" and "Touch." Hector has really taken to training, and it's rewarding to see improvement from week to week.
"He's come such a long way from when he first arrived," Lara says. "Seeing that is just the best feeling in the world."
Our Behavior Team's efforts to set Hector up for success are paying off. When Levi, a Homeward Pet Adoption Counselor, took Hector home for a night for a break from the shelter, he made himself right at home in the new environment—and especially loved burrowing into the blankets on Levi's bed. Though he tends to be slightly more timid with new places at the shelter, Hector was immediately warm and affectionate at Levi's home, thanks in part to the confidence he's gained working with our Behavior Team.
Lara isn't the only person who seeks out Hector's kennel when she arrives at Homeward Pet.
"Hector and I have really bonded since I arrived at Homeward Pet," Levi says, "and I wanted to return the love by giving him the opportunity to sleep on a bed and have someone to cuddle with all night."
We're sure there's an adopter out there looking for a cuddle bug like Hector. Could that be you?