Sponsor Spotlight: Seattle Veterinary Associates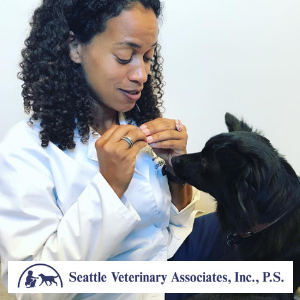 Thank you to September's e-newsletter sponsor, Seattle Veterinary Associates! This group of practices has locations throughout Seattle, and offers compassionate care and treatment to a variety of animal species—including pigs!
Kelly Semple, SVA staff, shares this about SVA:
"Seattle Veterinary Associates (SVA) is a veterinarian-owned, locally-grown group of four practices to serve your pets' medical needs. Our practices include Green Lake Animal Hospital, Queen Anne Animal Clinic, Northwest Veterinary Hospital, and Ravenna Animal Hospital. We also offer mobile services provided in the comfort of your pets' own home through our SVA On The Go service. Our company was established in 1971 by veterinarians whose passion was to provide the highest quality medical care combined with building long-lasting relationships with their clients and patients. Led by our second generation of veterinarian owners, today we continue our founders' passion and have been a mainstay in the Seattle veterinary community for over 47 years. We are committed to your pets' healthcare by providing continuing education and supporting the special interests of our veterinarians and staff. We also collaborate with area specialty hospitals to ensure your pets always have access to gold standard veterinary care.
Our mission is to "Make life better for people and their pets." Of course, staff knows that it's really about making life better for pets and their people.

Over the years SVA has had many, many memorable clients and patients, some of which are Homeward Pet alumni. We're particularly proud of being early adopters of the Fear-Free philosophy and have required all staff to learn methods of low-stress handling before interacting with our patients. Practicing in a low-stress, fear-free environment was particularly helpful when it came to Koko, a high-stress malamute mix who was featured in the Homeward Pet 2018 calendar. Koko was one of the handsomest, sweetest dogs but he hated having his nails trimmed. Through positive reinforcement and kindness, we were able to help transform Koko's appointments from something he found terrifying to something Koko looked forward to. He went from needing a muzzle to laying down eagerly and taking treats politely during his pedicure.
One of our hospitals has a doctor who even sees pigs. One of the things that stands out about our treatment of pigs is that we extend the same low-stress fear-free handling to our pig patients as we do to dogs and cats. Our doctor recognizes that pet pigs are not farm animals and deserve the same patience, care, and respect as we offer our other patients.
One of the reasons we all choose to do what we do is our love of animals. And we like to treat our patients just like we want our own pets treated. With kindness. After all, our pets are our patients, too!
We support Homeward Pet because we know they are a quality rescue that really takes the same pride in their treatment of animals that we do. We hope that all of the pets who are adopted from Homeward Pet are able to continue to receive the same high level of compassionate care throughout their lives as their shelter offers. If a rescue can do it, their vet can, too!"
Learn more about Seattle Veterinary Associates.