With a Little Bit of Pixie Dust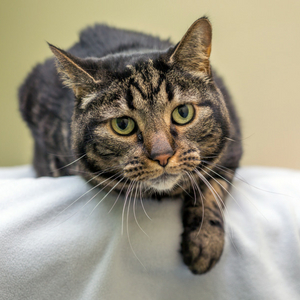 "Do you want to pet one of the softest cats in the world?"
That's how Megan, a Homeward Pet Adoption Counselor, describes Tinkerbell—and, once you scratch her behind the ears, you'll know it's the truth.
Megan felt drawn to Tinkerbell as soon as she arrived at Homeward Pet, nearly four months ago. "I mean, her name is Tinkerbell," Megan laughs. "That draws you right in. You have to get to know the cat named Tinkerbell."
But as Megan has spent more time with the extra-soft cat—cuddling, bonding over Tinkerbell's love of batting at feather toys—she's made a special place in her heart for Tinkerbell, and makes sure to visit her each time she has the chance. Tinkerbell even has an unusual way of greeting Megan.
"My favorite thing that she does is when I put my face up to hers, she just smashes her face right into mine," Megan says. "She's normally pretty quiet, but always perks up and greets me when I visit her."
What Megan can't figure out is why Tinkerbell has been with us at Homeward Pet for so long. "She's going to be such an easy cat to take care of," Megan says. "She's really affectionate and I could see her cuddling with her people all night."
Part of the reason might be because Tinkerbell is nervous for first impressions. "When she goes into the meet-and-greet room to meet an adopter," Megan says, "it seems like she gets overwhelmed by all the smells and she gets anxious." Because of that, adopters haven't taken a chance on bringing the lovely tabby lady home, but it's only a matter of time before Tinkerbell catches the eye of the right adopter.
Megan hopes that Tinkerbell can find a person willing to patiently let her settle into their home. If it weren't for Megan's particular cat, Macadamia—who can be picky when making new feline friends—she may have given Tinkerbell a home already.
"I think she would be happiest if she had a quiet home with a window to perch on," Megan says.
From June 27 to July 1, all adult cats (2+ years old) like Tinkerbell will have their adoption fees waived. Tinkerbell is just one of the amazing cats part of House Cats on the House adoption promotion!
Come visit us and meet Tinkerbell in person today.